Sit back and enjoy fall on the Emerald Coast and everything Panama City has to offer.
By TripSmarter.Com | March 26, 2013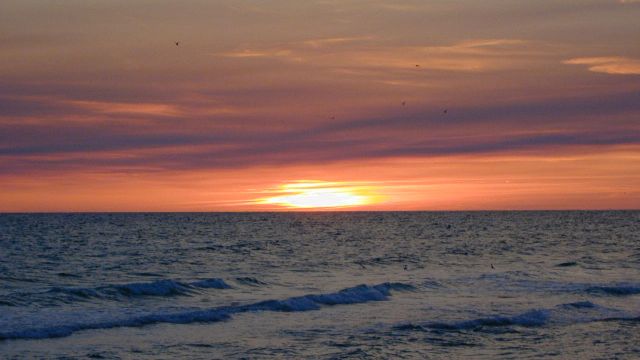 Panama City Beach, FL
Fall is a special time on the Emerald Coast. Locals and tourists alike spend much of their time… outside, enjoying an Indian summer that just won't quit! Though Panama City is blessed with good weather year round, it's hard to beat spending time on the beach after that first cold front has swept through town, taking with it the hot humid air of summer and lowering the thermometer some 10 to 15 degrees. Everyone seems to get super-energized when the temperature suddenly falls to 80 and the lack of humidity makes it seem more like 75! To some that may only seem like the loss of a few degrees here and there, but the difference is truly remarkable! After that first cold front, daytime temperatures really have to struggle to get back into the 90's and instead we're left with ideal conditions for doing everything… outside…and that includes spending the whole day at the beach with a good book… without breaking a sweat.

Naturally there are plenty of places to eat outside… morning, noon and night… and chances are you won't have any trouble finding a drink either with the ocean breeze on your face. If you've never been to a Panama City Beach "party," with the bar outside by the swimming pool, you're either too young or you've never been here? It's no secret that Panama City knows how to throw one helluva party… but whether it's outside on a deck by the beach, around an inviting swimming pool, or enjoying the salty air on a big party boat in the Gulf… there is no better time to do it than right now… September, October and November. When we say Indian Summer, we mean it… and you feel it every day!

If you're really serious about being outside (and who isn't), bring a tent and live the Life of Riley at Panama City Beach State Park? Camping inside this wonderful dune-like setting filled with age-old trees and palms is definitely nirvana for those who enjoy making their own 5-star accommodations... outside… and nothing beats taking a dip in the Gulf first thing in the morning. The fall temperatures are perfect for a game of volleyball or tennis… or be assured, no one will stop you from doing absolutely nothing. You won't be the first (or the last) to simply "do your thing!"

If you're new to Panama City Beach, you may not have heard that "Life is Good," at Spinnaker, one of Panama City's best beach clubs and home to the "takes two hands to hold 'em" cheeseburger. Schooners is known as the "Last Local Beach Club" and with all the new construction happening on the beach, it's never been more true. Still, you can anchor your boat (or jet-ski) just off shore and wander into Schooners in your bare feet for a Pina Colada or one of the best grouper sandwiches on the beach! Plenty of good music, too, at night when bands from around the country take center stage and get everyone dancing 'til the wee hours of the morning. More good food, good music and good times at Boatyard on Grand Lagoon and old-time favorites like Harpoon Harry's and Pineapple Willy's shouldn't be missed either for an outtasight "outside" experience!

The absolute best outside place to be is ON the water… and there's plenty of it, too, from the tranquil waters of Grand Lagoon and St. Andrews Bay, to the emerald green surf of the Gulf of Mexico. Just about everywhere you go, you'll find jet-skis, motorboats and pontoon boats for rent and this time of year it's easier to find whatever you want… when you want it! But here's a tip, Aquatic Adventures will arrange whatever you want (and they've got everything) and they will pick you up anywhere on the beach! That kind of service is hard to beat plus it saves time hunting for this and that. Just be sure you manage to get out on the water in one way or another. Aquatic Adventures has something for everyone… parasailing, wave-runners, snorkeling, dolphin tours, aqua cycle, banana boats and sea scooters!

Once your fingers and toes begin to "prune," it's time for an outside excursion on "land." They say, "You gotta go to Gulf World" and they're right! Whether it's the whiskers of a sea lion touching your nose or the taste of salt from a dolphin splash, Gulf World Marine Park is FUN! You'll see live animal shows, fascinating exhibits, and enjoy hands-on interaction with some really unusual animals. ZooWorld is home to even more animals…over 350 animals and more than 250 species of plants and trees. This zoological and botanical park offers yet another unique opportunity to view animals, as well as several species of endangered animals and plants while strolling through an extraordinary lush botanical setting…outside of course!

Visitors to Panama City also love miniature golf… and there are more than several really fun and colorful miniature golf courses to play. Generations of families have enjoyed this quirky sport through dark caves, over rope bridges, up steep mountains and around rushing waterfalls! No driving directions are needed… they're pretty hard to miss; in fact, most everyone feels they're a wonderful addition to the landscape. But like it or not, they seem to be here to stay! If "grown-up" golf is more your thing, grab your clubs and head for the Bay Point Marriott to play the only Nicklaus designed course in Northwest Florida. The Bay Point Marriott Yacht and Golf Club is a sanctuary for golfers and recognized as one of Florida's most popular and most respected golf destinations. The Club also keeps the whole family entertained with water sports, fishing and other fun activities… especially in the fall when the weather is perfect for boating…and particularly nice for a game of golf… outside!

The Nicklaus Course is practically mirrored by another great golf course known as the Meadows. Both courses border Grand lagoon, but playing the Meadows is memorable for both its layout and topography, and it's challenging for all levels… it was even voted the most "Women's Friendly Course" by Golf Digest. Just down Back Beach Road is the Hombre… one of the Premier Championship Golf Resorts in the Sunshine State and host to the PGA Tour Qualifying School. Both scenic and challenging, Hombre is nestled amidst lakes, marsh and preserves while beautifully framed by palms, pines and azaleas. Make the most of these perfect fall days and enjoy golfing on the Emerald Coast… then return in the winter, spring and summer for another round or two!

There's also no lack of special events this time of year. Schooners serves up lobster, lobster, lobster as competitors vie for the biggest lobster during Lobsterfest in September. Later in the month, Thunder Beach Autumn Rally fills the Gulf Coast with Harleys and other two-wheeled vehicles for Poker Runs... a Bike Show, a Bike Parade and Bike "exhibits" (of course)! If that isn't enough to amuse you, there are daily and nightly contests, Bike Games and did someone say.... THUNDER GIRLS? In October, the Indian Summer Festival (aptly named) promises to be bigger and better than ever with exciting children's activities, a larger midway and a broader variety of musical acts. This year's headliners will be American Idol's Bo Bice, country star Jeff Bates and legendary band "Hootie and the Blowfish."

The Festival of Nations arrives downtown in late October. Representatives of dozens of countries will be on hand to display information and goods from their native lands. Scottish bagpipers in kilts march through the streets in between German "Oom pa pah" bands belting out a polka. One of the best parts of the festival is sampling the exotic and often delicious foods from far-away countries… Greek pastries, spicy Thai treats, and German sausages. The festival brings the world to Downtown Panama City, complete with all the sights, sounds, and tastes you'd experience while traveling the globe! Finally the Ironman Triathlon comes to Panama City in early November before the finals in Hawaii! Hundreds of the world's fittest athletes will be on the Beach to compete in this grueling endurance test- a 2.4-mile swim, 112-mile bike route, and a full 26.2-mile marathon! Talk about a grueling… fun to watch but don't try to participate unless you're fit as a fiddle!

Spend your time running a short distance on the beach instead… or, not running at all! Just sit back and enjoy fall on the Emerald Coast and everything Panama City has to offer… brilliant sunsets, soothing warm water, sea oats swaying in the breeze and the perfect weather for doing just about anything… outside!