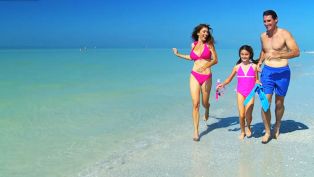 Resort Collection invites sun worshippers to visit America's favorite beach destination, Panama City Beach, and stay at one of its many properties, which include the family-friendly Edgewater Beach and Golf Resort, the magnificent Majestic Beach Resort, the luxuriously appointed Emerald Beach Resort, the relaxing Long Beach Resort, the contemporary Grandview East Resort, the exciting Summit Beach Resort, the beautiful Sunbird Beach Resort and the exclusive En Soleil—all located on the "World's Most Beautiful Beaches."

Resort Collection boasts almost a thousand full-service Gulf-front suites and golf villas, 90,000 square feet of indoor and outdoor meeting space, the world's most beautiful beaches, award-winning fine dining at Firefly, six Plexicushion tennis courts, an outdoor basketball court, 21 luxurious pools, and offers an executive nine-hole golf course and 27 holes of championship golf at the Hombre Golf Club on Northwest Florida's Gulf Coast.
Ammenities:
Activities
,
Cable
,
Coffee
,
Continental Breakfast
,
Gym
,
Kitchen
,
Laundry
,
Lounge
,
Meeting Room
,
Microwave
,
Movie Player
,
Pool
,
Refrigerator
,
Safe
,
Sauna
,
Suites
Children:
Activities
,
Pool
,
Safe Balcony
Listing Management:
Update Business Details
MOST POPULAR
Articles
Videos
Directory
Website:
Resortcollection.com
Location:
11212 Front Beach Road
Panama City Beach, FL 32407
Phone:
(855) 512-3843
YELP Reviews Coming Soon!
Google Reviews Coming Soon!