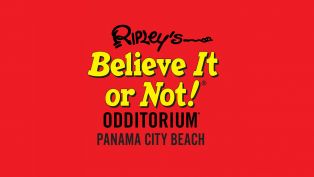 Experience the most unbelievable and weirdest location in Panama City Beach. Inside a Ripley's Believe It or Not! Odditorium you can visit an unbelievable variety of artifacts and displays in our unique interactive galleries that pay tribute to the odd and strange. Each one of the Ripley's Believe It or Not! Odditoriums is a unique experience, where you will find things so extraordinary, so shocking, you'll wonder how they could possibly be true!

Ride the Ripley's 4d Moving Theater and Feel the Rush! Experience the thrill movies you ride powered by REAL D! Cutting edge technology and incredible six channel digital surround sound make it the most exciting movie there is!

Ripley's Laser Races challenge you to expertly navigate your way through dozens of lasers without hitting a single one.

Listing Management:
Update Business Details
MOST POPULAR
Articles
Videos
Directory

No Reviews have been posted yet. Be the first!
YELP Reviews Coming Soon!
Google Reviews Coming Soon!