Video Player
NOTE:
Works on most websites and blogs. Does NOT work with most social networks - use
Video Link
instead. Not compatible with video upload sites (YouTube, Vimeo, etc).
Published by:
TripSmarter.Com
Published date:
July 13, 2015
Total views:
343 total views
Monthly average:
49 views / month
Daily average:
0 views / day
The Beach at Schooners
The first thing you'll see is the thing you'll always remember about Schooners... one of the world's most beautiful beaches. Or, as the locals like to claim, the best place on the planet.
Website:
Schooners.com
Location:
5121 Gulf Drive
Panama City Beach, FL 32408
Phone:
850-235-3555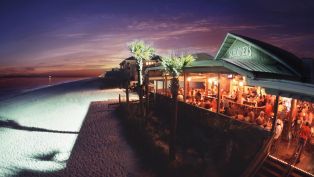 They call this place "The Last Local Beach Club," because it is one of the last holdouts for the classic beach style... with danceworn wood floors and tin roof... a bar perched out right on the Gulf. The bands start early and by sunset, the dance floor is packed. Every sunset, someone from the crowd lights the fuse on the old cannon and everyone counts down to "blast off" just as the sun dips below the horizon. Schooners keeps the prices low, the beer ice cold and the seafood fresh. Schooners chefs challenge the finest in the country. Voted "Best Place for Live Music" and "Best Place to Take Friends from Out of Town!" Live music daily. Web site has great live cams and popular local bulletin board. If you're looking for the perfect souvenir of your trip to PC Beach, the "Last Local Beach Club" has it available on line!
Listing Location:
Near the east end of Thomas Drive, right on the beach
Listing Business Hours:
11am - 3am
Food Type:
Steak
Meal Served:
Appetizers, Dinner, Lunch
Reservations:
Not Required
Listing Management:
Update Listing